Artisan Soap, ALL SOAPS, Herbal Infused Essential Oil, Handmade Cold Process Soap
$

6.50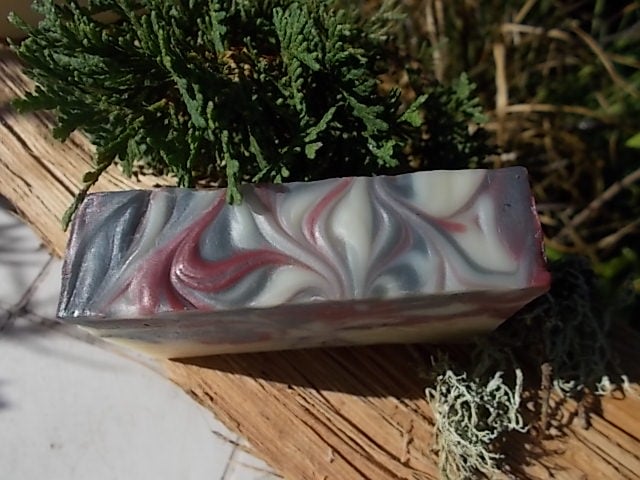 Artisan Soap, ALL SOAPS, Herbal Infused, Essential Oil, Handmade, Cold Process Soap.
Choose your scent from the drop down menu, below the descriptions.
Rose Moon Artisan Soap is:
Cold process soap, handcrafted from scratch in small batches.
Scented with essential oils, absolutes, spices, natural and conventional fragrance oils.
Colored with natural botanicals, herbal infusions, oxides, ultramarines, charcoal and clays.
Made with organic, locally/sustainably sourced and fair trade ingredients whenever possible.
Colors and designs vary from batch to batch and bar to bar.
Bars weigh around 3 to 4 oz.
Bay Rum: A timeless, tropical favorite. A 4 essential oil blend of genuine West Indies bay rum, lime, clove and vanilla CO2 extract.
Black Oak for Men with Activated Charcoal. A smooth, masculine scent blend of Oak, Amber, Vanilla, Sandalwood and Lavender. Colored with burgundy iron oxide and activated, hardwood charcoal.
Organic Chai: Scented with essential oils of ginger, sweet orange, cinnamon, clove, nutmeg and cardamom with ground spices, including fennel, for gentle exfoliation.
Christmas Tree: Fir balsam scented, just like the holiday tree.
Coconut: Delicious, creamy coconut scent.
Cranberry Spruce: Spruce, cranberry and citrus with ground oats for gentle body polishing.
Cypress, Cedar & Vetiver: SOLD OUT. Woodsy and earthy, scented with essential oil and colored with activated charcoal and burgundy iron oxide.
Day at the Beach: Warm sand, salty sea spray, jasmine and mandarin. If you remember the 70's, this scent will transport you back through time. ;)
Organic Frankincense and Myrrh: An ancient classic featuring genuine frankincense and myrrh essential oils, in a base of 100% organic oils.
Ginger Lime: Refreshing with key lime and ginger essential oil.
Halloween Mystique Spiderweb Soap: A rich, deep, spooky spice blend of clove, patchouli, cinnamon, frankincense and amyris (Indian sandalwood) essential oils. Colored with activated charcoal, which adds cleansing benefits to the skin.
Organic Key Lime: Scented with refreshing Key Lime essential oil and made with 100% organic base oils.
Jasmine: A true jasmine scent with shea butter. Organic sunflower oil gives this soap a very light, silky feel.
Lemongrass: Bright and uplifting lemongrass essential oil scent.
Lilac: Nothing says spring in New England like lilacs in bloom. Our New Hampshire state flower is firmly rooted in our history, lore, tradition and hearts. True to the flower, this lilac is sure to please the most discriminating lilac lover!
Lily of the Valley: This soap captures the essence of the delicate, bell shaped, spring flower..
LoveSpell: Cherry blossoms, lily of the valley, apple, orange and peach with cream and musk base notes. With shea butter and silky sunflower oil.
Margarita: This soap smells just like a margarita! A shot of key lime essential oil garnished with sea salt.
Monoi de Tahiti: Tropical tiare flower, the exotic Tahitian gardenia. Organic sunflower oil gives this soap light, silky bubbles.
Oatmeal, Honey, Almond: Skin soothing, organic oatmeal with just a touch of almond.
Oatmeal, Milk & Honey: This gentle, skin loving soap made with ground oats and local, NH honey adds a warm, inviting scent.
Orange Blossom: Fruit tree blossoms are some of the most delicate and exquisite floral notes. Infused with essential oil of bergamot, this scent captures the essence of walking through a blossoming orange grove. Not a wholly citrus type scent, but a lush, floral combination of sweet, delicate, clean and fresh.
Patchouli: Classic and earthy with patchouli essential oil and activated charcoal.
Rosemary Mint: One of my favorite scent blends of rosemary and spearmint essential oil.
Rose Petal: True Rose scent with olive oil for a gentle bar and organic sunflower oil for luscious, silky bubbles. Naturally colored with Australian Red Reef Clay.
Sandalwood: Classic and romantic, sweet and woody, with shea butter and Indonesian sandalwood essential oil. Colored with iron oxide and shimming veins of mica.
Sleigh Ride: A 5 essential oil blend of fir balsam, fir needle and peppermint with a smidge of clove and wintergreen. Festive green and red stripes.
Vetiver: Rare, vetiver is a grass that smells earthy, woody, a little smoky and is very soothing and comforting. It reminds me of how the earth smells in the summer, when I'm hiking in the woods. This soap is straight up, natural vetiver essential oil, with no other fragrant notes.
Woodland Spruce: Evergreen meets forest floor. A 5 essential oil blend of fresh greens and cedar, with a smoky, earthy hint of vetiver.